Skipper's Concert Calendar

Event Navigation
Shell Point Cottage on the Road Presents: Seas & Greetings or JOY $35 or $55
November 7, 2017 @ 6:30 pm
$35 – $55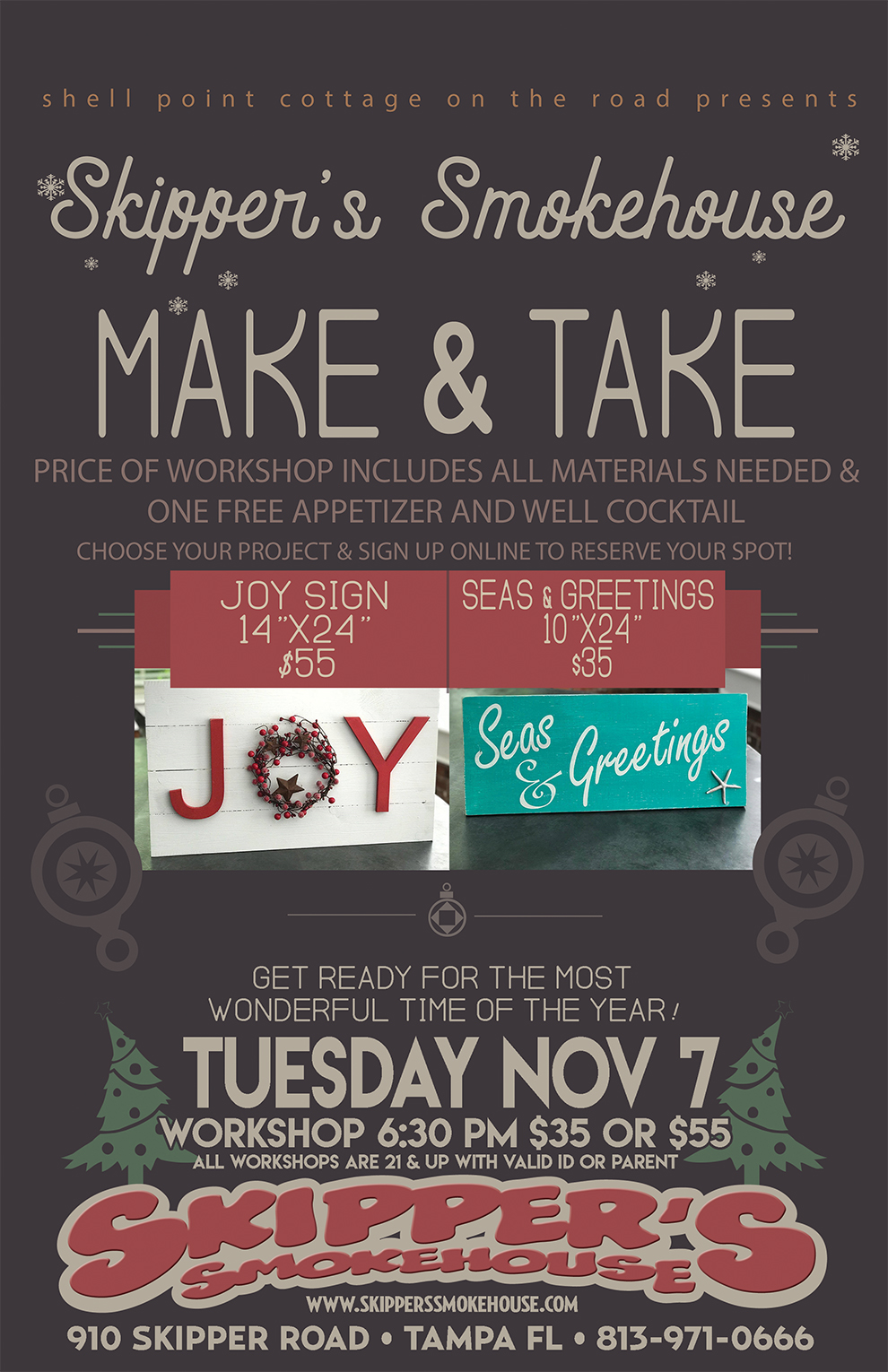 Shell Point Cottage on the Road Presents: Seas & Greetings ($35) or JOY ($55) (your choice)
The price of the class includes one free well drink and a free appetizer! There will also be a server designated for the workshop space so ordering food & drinks will be easier for class attendees.
Workshop/Make & Take JOY or Seas & Greetings!
There is no cooler place to get crafy & imbibe than the Skipperdome! Come out for this class – all materials will be supplied. We will be assembling, painting, glittering, shelling and everything else together.
JOY:It's beginning to look a lot like Christmas and it's time for some Joy in your life! The JOY pallet board sign is 14″x24″. The J and Y are custom cut MDF to fit perfectly and the O will be a creation all your own!!!
SEAS & GREETINGS: This Florida holiday salutation is 10″x24″.
Refund Policy: No reimbursement will be made if you fail to attend your scheduled workshop. We reserve the right to cancel any workshop. If we cancel a workshop (due to unforeseen circumstance) we will notify you as soon as possible. You may then you may receive a full refund. Thank you for your understanding!
Ticketing: you must reserve your spot online by clicking on our purchase ticket link. Be sure to choose the price level and title that corresponds with the project you wish to make.
Happy crafting!