Skipper's Smokehouse Menu
*Please note: We are Currently Serving a Limited Menu
Take Out Orders Only
---
The menu features Floribbean cuisine – a fusion of Caribbean, Florida and Louisiana flavors. We serve award-winning Black Bean Gator Chili, alligator ribs and fried gator tail. Seafood offerings include farm-raised catfish, grouper, oysters, clams, conch and shrimp. Fresh catches vary from amberjack, shark, basa, salmon, swordfish, tuna or wahoo. Mudbugs (crawfish) are on the menu almost year round. In the past, we've won awards for Best Outdoor Restaurant, Best Grouper Sandwich, Best Alligator, Hottest Wings in Tampa, and Best Key Lime Pie.
10% Military Discount
Active, retired, and reserves; must present a valid military ID
Excludes alcohol, not valid with other coupons, discounts or offers
Restaurant Hours
Tuesday – Sunday 11AM-8PM
Take-Out Only
Closed on Mondays
Serving a limited menu at this time.
Appetizers
---
---
Smoked Fish Dip

$4.99
---
Onion Rings

$4.99
---
Fried Okra

$4.99
---
'Shrooms

$4.99
---
Calamari Rings

$7.99
---
Conch Fritters

$8.99
---
Crab-Stuffed Mushrooms

$8.99
---
Gator Tail

$9.99
---
Cajun Popcorn
(crawfish tails)

$8.99
---
Salads
---
---
Caesar Salad w/ Basa,
Shrimp or Chicken Breast

$9.99
---
Caesar Salad

$6.99
---
House Salad

$3.99
Skipper's Homemade Chowders & Chili
---
---
Clam Chowder
---
Cup

$4.99
---
Bowl

$5.99
---
---
Gator Black Bean Chili
---
Cup

$4.99
---
Bowl

$5.99
---
Conch Chowder
---
Cup

$4.99
---
Bowl

$5.99
---
Sides

$2.49
---
Cole Slaw, BBQ Beans, Hush Puppies, Steamed Veggies, French Fries, Black Beans/Yellow Rice
---
As seen on Travel Channel's
"Best Sandwich In America"
Blackened Grouper Reuben Sandwich
---
---
$12.99
Sandwich Platter with one Side, add 1.50
As seen on Travel Channel's
Man V. Food Nation
Smoked Gator Ribs
---
$14.99
---
---
Sandwich Platter with one Side, add 1.50
Sandwiches
---
Served on a cornmeal dusted kaiser with tartar sauce, lettuce, tomato and a spear of kosher dill pickle
Add cheese to any sandwich or burger for 50¢
---
Chicken Breast

$6.99
---
Catfish

$8.99
---
Mahi-Mahi

$9.99
---
Basa

$7.99
---
Gator Tail

$10.99
---
---
Blackened Basa Reuben

$10.99
---
Grouper

Market Price
---
---
Black Angus Hamburger

$6.99
---
Garden Burger

$5.99
---
Skipper Dog

$4.49
---
Oyster Po-Boy

$9.99
---
Cajun Popcorn Po-Boy

$9.99
---
---
Oysters on the half shell
Half-dozen

$8.99


Dozen

$14.99
---
Steamed Clams

$8.99
---
Crawdaddy Mac


$10.99
(blackened crawfish w/ mac & cheese)
---
---
Black Beans & Rice

$5.99
add sour cream & onions 50¢
Beer Boiled Shrimp
1/2 pound on ice

$9.99
---
---
Devil Crab

$3.49
---
Smoked Cheddar Mac & Cheese
Bowl

$6.99
(featuring smoked cheddar, swiss and velvet cheeses)
---
Buffalo Wings
---
Hot, Hotter or if you dare, HOTTEST
---
---
$8.99
$14.99
Dinners
---
Served w/ hush puppies and your choice of two side orders
---
Jerk Chicken

$12.99
---
Smoked Mullet

$12.99
---
---
Basa

$12.99
---
Mahi-Mahi

$16.99
---
Catfish

$15.99
---
Snow Crab Legs

$22.99
---
Stone Crab

Market
Shrimp

$15.99
---
Gator Tail

$16.99
---
Crab Cakes

$16.99
---
Oysters

$16.99
---
Grouper

Market
---
Smoked St. Louis Ribs
---
1/2 Rack

$14.99
---
Full Rack

$22.99
---
Skipper's Platter
---
Fried Shrimp, Oysters, Gator Tail,
Smoked Fish Dip, Calamari & Basa
Hush Puppies & two Sides included
Steam Platter
---
Shrimp, Clams, Snow Crab Legs & Mussels
Hush Puppies & two Sides included
$22.99
---
---
For the Lil' Mullets
---
---
Basa Fingers & Fries

$8.99
---
Grilled Cheese Sandwich & Fries

$4.99
---
Mini Corn Dogs & Fries

$4.99
---
Smoked Cheddar Mac Bowl

$6.99
---
Chicken Fingers & Fries

$7.49
---
---
Desserts
---
---
Homemade Key Lime Pie


$4.99
---
---
Dessert of the Day


Ask Your server
---
---
Beverages

$2.00
---
Soda, Coffee, Iced Tea, Sweet Tea, Bottled Water
---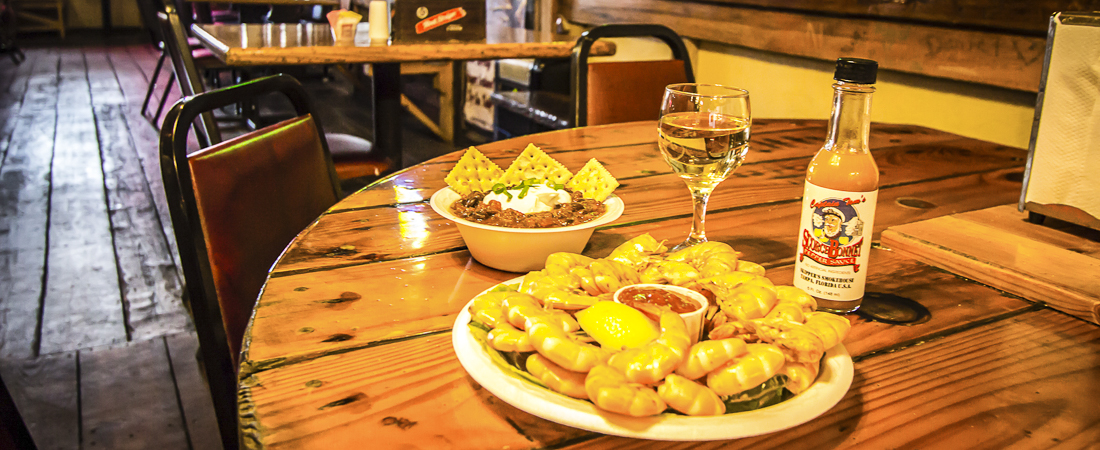 Draft Beer
---
---
Budweiser, Bud Light,
Amber Bock, Michelob Ultra

$2.50
---
Magic Hat No. 9, Sweetwater 420 and variable craft beers & ciders

$5.00
---
Premium microbrews, Guinness Pub Draft Can, Jai Alai Cans

$6.00
---
---
House Wines
---
---
Wine List Available – Ask Your Server
---
Glass

$6.00
Half-carafe

$12.00
Carafe

$20.00
---
Cabernet Sauvignon, Chardonnay, Merlot, White Zinfandel
---
Mixed Drinks Available – Ask Your Server
---
Bottled Beer
---
---
Budweiser, Bud Light, Coors Light, Michelob Ultra, Miller Lite, O'Douls, Rolling Rock, Yuengling & PBR Tall Boy Cans
$3.75
---
Amstel Light, Bass Ale, Beck's, Beck's Dark, Corona, Heineken, Negra Modelo, Newcastle Brown Ale, Red Stripe, Sam Adams, Shiner Bock, Sierra Nevada Pale Ale, Stella Artois, Angry Orchard
$5.00
---